Best NGO in India and Its Services-Aahwahan Foundation
Best NGOs to work for in India
It is a fact we often ignore, that the place we live in is a beautiful heaven that provides us with the most favourable conditions to sustain. Yet, we strive hard to make it more favourable by destroying what we have been enjoying for free. Environment protection is the need of the hour as the greed of humans has exceeded its limits. With the increasing pollution and exploitation of natural resources, it has become a necessity to protect what is left. Best NGO in India duty doesn't end with just campaigns or holding placards across the street, the need demands action.
Aahwahan foundation from its initial stage has committed itself to the protection of the environment. We strongly believe in giving back to Mother Nature for all the gifts she had provided us. We have pledged ourselves to take care of the environment just like it has been taking care of us all these years. Our motive to give back is our driving force that has made us capable of spreading our wings all across the country. One of our prime objectives includes green tree plantation. Till date, we have planted more than 2 million trees across the country and we are on the way to make the country greener. Just as planting a tree is as worthful as giving life, it is also important to take care of other resources like air, water, water bodies etc. Apart from tree plantation programmes, we actively engage in conserving water resources through lake restoration projects, rainwater harvesting, beach cleaning initiatives and water sanitation and hygiene projects. Water bodies are the most valuable elements of the ecosystem that sustains millions of aquatic plants and animals. They are very essential for maintaining and restoring ecological balance. We considered it as a challenge when we noticed these water bodies getting polluted without any mercy. As a result, we successfully implemented many beach cleaning initiatives in different parts of the country such as Gokarna, Karwar, & Murudeshwar beaches in Karnataka; Palolem, Baga & Anjuna beaches in Goa and Ganpatipule & Guhagar Beaches in Maharashtra. We take pride in mentioning that our sustained efforts in Gokarna have resulted in the restoration of the beach ecosystem and also paved way for the flourishing tourism. At Udaipur, we also developed the beach premises by installing street lamps and constructing pavements for the beach users. we also focus on lake restoration projects to protect the dying lakes in our surrounding areas. Until now, we have restored over 7 lakes all over the country. The availability of fresh water is declining globally raising questions for the future. Our foundation took a successful step toward the conservation of water by adopting the rainwater harvesting method. Water sanitation projects are also implemented widely across the country as part of conserving drinking water. We believe in involving the public in our initiatives will help spread awareness in an effective way. Spreading awareness is also an important task we always give priority to as it helps in inculcating a sense of responsibility in every citizen to take care of his environment. We have received over 100 awards and recognitions from many institutions for all the good efforts we have been taking to preserve and conserve our environment and its resources.
For the successful implementation of every project, Aahwahan goes through extensive planning and research. Throughout these brainstorming sections, we decide upon the various attributes that we need to consider in executing the projects
Tree Plantation:
A survey team of more than 200 people spread across various locations in Bangalore, Maharastra, Uttar Pradesh, Delhi, and Chennai to visit different corners of the location to spot areas suitable for plantation and also to examine the number and type of plants that can be planted in those areas (in order to avoid wrong trees at wrong places).
An organized list of areas selected for implementing the plantation programme is drafted and maintained and necessary sanctions from the authorities will be availed.
Well established connections with vendors of plant saplings who can provide any number of plant saplings on request.
Adequate and appropriate inputs (fertilizers, herbicides or labour (if necessary)) are also taken care of.
Proper monitoring and enforcement are done at regular intervals for ensuring proper growth of the saplings.
Installing metal tree guards during the initial stage of the plantation to ensure vertical growth of the trees situating at the roadsides or dividers.
Initiate an awareness campaign on the tree plantation project to the public through various communication channels.
Beach Cleaning:
A research team to look into every coastal area across the country and note down those locations facing issues of beach pollution. Along with that, they will also check the beach premises which call for any further development.
A group of more than 200 members across the nation in the coastal areas of Bangalore, Goa, Chennai, Maharashtra and Andhra Pradesh to actively volunteer for beach cleaning drives.
Official staff of 8-10 members will be assigned at the location to ensure that the beach remains clean every day.
Well established connection with the various coastal area authorities to ensure the smooth conduct of the cleaning drives.
Distributions of cleaning and protective equipment like beach cleaning equipment, sand sifting machines, rubber gloves, protective masks, dustbins or waste disposal bags, hand sanitizer, grabbers, closed-toed shoes etc to the cleaning team.
Installation of more than 100 waste bins (depends on the location) and CCTV cameras around the beach premises to monitor illegal waste disposal.
A waste disposal vehicle will be arranged to relocate the wastes from the waste bin to the municipal waste disposal area.
Regular monitoring of the location will be done by the appointed staff.
If any developments are required such as the construction of pavements, trails, or nature parks, installation of street lights, access to drinking water etc, measures will be taken to implement the same under proper planning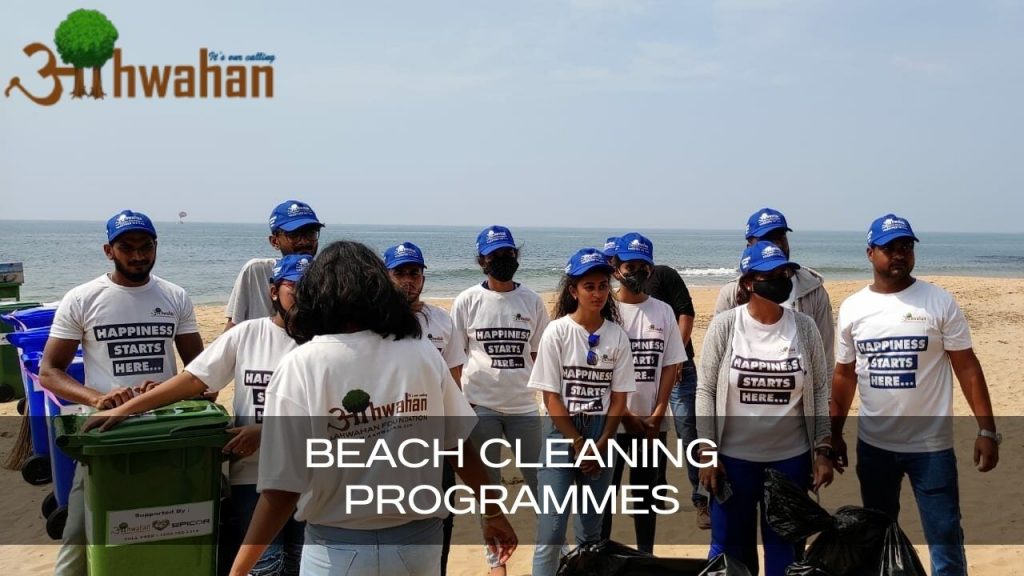 Watershed Development Programmes:
A research team of more than 100 people will inspect and conduct a feasibility study on drought-prone and hilly areas across the nation such as Andhra Pradesh, Gujarat, Karnataka, Maharastra, Orissa, Tamil Nadu, Rajasthan, Utter Pradesh and West Bengal and communicate with the government authorities and landowners about the project.
A data collection drive on the soil properties, availability of drinking water, existence of any kind of pollutants, cropping patterns, economic background of the farmers and inhabitors, etc will also be conducted simultaneously.
An expert team from our institution will take into account the area surveyed to draft an estimate of land area and cost for constructing watersheds (whether micro or sub-watersheds) with respect to the geographical background of the location(plain or hilly terrains).
Various water user groups will be formed in the areas to spread awareness among the locals about the benefits of watersheds.
Well established institutional networking and suitable sites and designs for the development of the project will be maintained.
Impact assessment (social, economic and environmental) will be conducted.
After the implementation of the project, regular monitoring and evaluation of the structure, as well as the quality of the water, soil properties, rate of soil erosion, cropping patterns and economic background of the farmers and inhabitors will be done.
The extensive scope of generating income through horticulture will be informed to the farmers.
Adoption of new technological interventions like remote sensing and GIS for monitoring and evaluation of the project.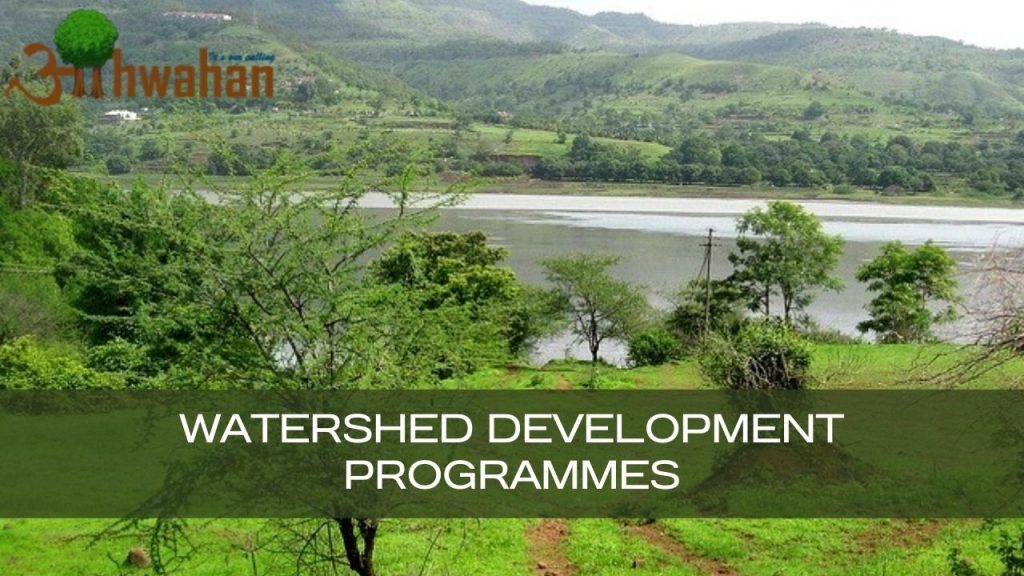 Rainwater Harvesting Project
A team of more than 200 people will be allocated to different urban and rural areas of the country for inspecting the rooftops feasible for implementing rainwater harvesting.
Special groups will be formed in each location to spread awareness on the importance of harvesting rainwater to reuse it for other household purposes.
Every target location will be inspected carefully and a design document will be drafted will the help of expert teams to implement the project efficiently.
Various components of the system like storage tanks and pipeline distribution system will be purchased (except the catchment area) and installed in every house coming under the implementation scope.
Catchment areas where the rainwater is collected will be examined by our team prior to the installation of the system in order to ensure hygiene and sanitation of the rainwater collected. Unfavourable catchment areas like covered with slits or debris spotted will be converted into desirable ones by our team for further installations.
First flush and filter instalments will be done to make sure the water is pollutant and contaminant free.
Regular monitoring of the rainwater collected will be done from our side to check the quality of the rainwater for drinking or cooking purposes.
Regular maintenance of the rainwater harvesting system will be done at regular intervals.
Lake Restoration Project
A research team of more than 100 people will be dispatched to various locations like Karnataka, Rajasthan, Gujarat, Maharastra, Tamil Nadu, Uttar Pradesh, Andra Pradesh and other drought-affected sections of the nation to investigate on the dying lakes in those areas.
Definite marking of the boundaries of the lake by fencing the lake to prevent any encroachment in future.
Sample data collection involving the geographical history of the location, details on the co-existed flora and fauna, climatic changes, pollution level and so on will be done.
Awareness groups will be formed to spread the importance of reviving the water bodies and the need for community involvement.
Communication with relevant stakeholders will be done to ensure support from the side.
Stopping further pollution will be the main agenda. Anti-pollution measures like strict monitoring on dumping of wastes in the water bodies will be done with the installation of CCTVs and appointment of personnel security staff. The law-breakers will be faced with legal formalities.
Proper channels or pipelines will be constructed to divert drains and stormwater to a deep sedimentation basin constructed on any side of the lake and bunds (using boulders/sand and dredged mud) will be created to filter out large-sized pollutants.
Sewage treatment plants will be constructed to treat the waste collected from the lake.
Afforestation will be adopted around the lake premises to improve water quality and prevent soil erosion.
Construction of walking/ jogging pathways, small recreational areas and installation of lighting lamps, drinking water and dustbins can also be done with efficient planning.
Regular maintenance of the fencing and lighting, security, gardening, hygiene, waste disposal and treatment will be done at regular intervals.
Offical staff will be appointed for the maintenance and monitoring of the lake premises.
Our team at Aaahwahan Foundation is determined on our mission to protect our Mother Nature by implementing more environmental projects with a wider scope. The successful implementation of our projects has brought us wide recognition and our motives are well accepted by different prestigious institutions. Every time we complete a project, it has become our innate nature to look for more problems existing around us and find solutions for them. The end product of our brainstorming discussions has always paved for more unique and meaningful project ideas. We take immense pride in being the best caretaker of the environment, and will always stick to our principles and missions till the end. As a flagbearer of many beautiful initiatives, we as a team enjoy immense contentment in our actions which we strongly believe will bear fruits in the future.
Contact Datail
Building No-40, 4th Floor, 9th Block Jayanagr, Bangalore-69
9113018004 / 7795065657
info@aahwahan.com