Team of Aahwahan Foundation – Noida and NCR Region
Aahwahan Foundation Noida and NCR
As we all know India's population is huge, being138 crores, almost reaching the top of the table in terms of population and it is a developing country, there is a big difference between people's financial stability.  While we have 20% of the people who are filthy rich who have no worries, the rest 80% of the people lack some or the other basic need of living like food or shelter or education. Then we have 20 million people who are deprived of fundamental support for living their life. In this situation, a country needs a body that looks out for these 20 million people and supports them in living so that these people will raise and help in the future of the country and contribute to making it a superpower like the first world governments who do the best they can do by introducing policies and lowering the prices for the reserved and needed people. But they fail to reach out to every individual, here a non-government-funded organization comes to the rescue.
As we have gone through what is an NGO and its importance in India, we have more than 4 million NGOs working for different causes but finally, the last goal is to help people in need no matter what their caste, gender, or color. We have NGOs dating back since independence and we have a few young NGOs who are doing a tremendous job and reaching out to billions of people not only in their state but also all over India.
In Noida, which is roughly 25 kilometers in radius, we have about 89 certified NGOs working for the welfare of people. Recently an outstanding NGO named Aahwahan foundation stepped up in Noida. As Noida is near the capital of India – Delhi, it will have good reach from the northern part of India where the unemployment rate is highest, and people's have more requirements that cannot be fulfilled without a job.
Let's have a look at this NGOs history and purpose. Aahwahan foundation was formed in the year 2009, it is one of the youngest and biggest NGO in India. Their final and only goal is to eradicate poverty from the country. They believe if every single individual is independent and can support their living and work for the betterment of the country, only then we can consider India to be strong and it is also the only way to boost the Indian economy. In Bangalore and Odisha, they have carried out several welfare drives for economically backward societies.
Recently during covid, they have provided food for those who have lost their job, since the foundation in 2009 until 2022 they have fed more than 30 thousand people. They've provided both cooked food and weekly basic ration so that a full stomach of the people will have the energy to work in the economy. They have been supporting many schools in rural areas. Providing stationery, computer class on wheels, and supporting female education have been some of their major achievements. They have recently built a working road in a rural district in Bangalore through muddy farms so that the students and staff can reach school safely which also automatically increased children's admission to that school. They also have a huge milestone to plant millions of new trees for environmental awareness.
Since then, they have joined hands and partnerships with several civic bodies, development institutions, education institutions, community organizations, corporate companies, and a few government bodies to strengthen the vision of the director and founder Mr. Braja Kishore Pradhan to raise the financial level of backward people and to ultimately help the whole country. With his direction, the Aahwahan foundation became the top NGO in Bangalore and Odisha. Now it steps in northern India firstly in Noida and then in other NCR regions.
Now Noida team is looking to achieve multiple goals like what they have achieved in Bangalore and Odisha with the guidance of its executive team members, Mr. Nitesh Kumar, Astrologer Vinayak Bhatt, and Mrs. Priyanka Madan. These individuals are true social workers as they have worked alongside Mr. Braja Kishore Pradhan in providing new and more integrated ways of farming, women empowerment, girl education, and human rights. Let's have a more in-depth look at our major contributors to Noida and Delhi campaigns. 
Team Of Aahwahan Foundation in Noida Region
Mr. Braja Kishore Pradhan – He is the Founder and Chairperson of Aahwahan Foundation, a Bengaluru-based Indian NGO. His dedication, persistence, and determination to serve the unprivileged have taken Aahwahan to incredible heights, serving the purpose of starting the NGO which is to contribute to the growth of our country while driving it towards a greater vision of an inclusive India.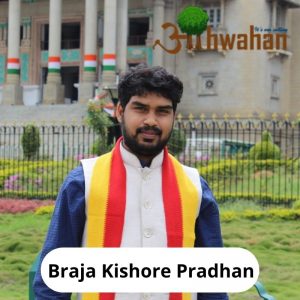 Vinayak Bhatt – He is one of the best astrologers in Delhi and has the status of a celebrity who has the heart to help others. Being an executive team member, he has volunteered for multiple Aahwahan foundation food drives and food programs, and he has brought up the association with Saptarishis Astrology Research Group which contributed to this noble cause further strengthening the promotion of food for hunger. He has managed food campaigns in schools and provided them with the groceries as well. He has remained an integral part of the Aahwahan foundation.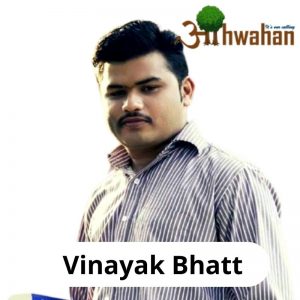 Mr. Nitesh Kumar – He is one of the pillars of the Aahwahan foundation and being an executive team member, he has contributed immensely alongside the founder, Mr. Braja Kishore Pradhan. He has major contributions and achievements which have brought the Aahwahan foundation to all over India recognition. His keen interest is always been in farmer's agriculture improvement. He has tough multiple farmers from different villages new techniques and technology available for a smarter and better way of farming resulting in the surplus income. He has also worked in health on wheels – providing free medical check-ups for remote rural places. The main aim is to bring progress to the rural areas.
Mr. Vikas Vicky – He is a brilliant and experienced man in her field. Always ready to raise her voice for women empowerment and girl child education as these topics are upfront in Aahwahan's list, she has been providing scholarships for the needed and talented students around the country. Also setting up workshops for women so they can learn the crafts and have hands-on stitching and ensuring that not a single man should suffer because of no money has been one of her agendas with Aahwahan.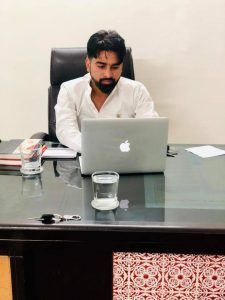 In Noida, they are working and providing occupations to the unemployed individuals who are from marinized socially and economically backward communities. Starting from 2021 till the present, they are conducting food drives in Noida supplying food for the people on the road who are in dire need of it. Aahwahan foundation's Noida team organized a food distribution program for underprivileged children on 20th Jan 2021 in sector 44 Noida aiming to eliminate malnutrition in children due to scarcity of nutrition which is a direct result of less food intake which eventually results in education taking a back seat. The food program 'food for hunger' provides rations to children in composite school Prathmik Madhyamik Vidyalaya, Chhalera which included a rice pack provided by the partnership with Mckinley Rice and also a covid kit by Practo. This drive is also supported by Feeding India, they cleared the drainage causing huge inconvenience to the society near the Noida tyre house shop. They further plan to open stitching units, Agarbati making units, soft toy manufacturing, and sanitary napkin units for women.
The Aahwahan Foundation in Noida continues its reach to students in Noida and other regions in NCR with the support of volunteers, and corporate and non-government organizations changing the process of how an NGO should work. As they work together in partnership with other organizations that are willing to help and not rely on external funds completely, they are to advance on the path of providing real and sustainable solutions to the society in spheres of education, framing, empowering minorities, and community development, and health.  
Author
Tanvi trivedi
Effective content writer and communication specialist. A sci-fi writer in leisure.