Students Ride 'Education Express' In This School Designed Like Train In Odisha's Mayurbhanj
Does a train fascinate children? It does, if children of the area have not seen one so far. Keeping this in mind, a government school at Baiganbadia in Odisha's Mayurbhanj district has been designed like a train and classes as its compartments.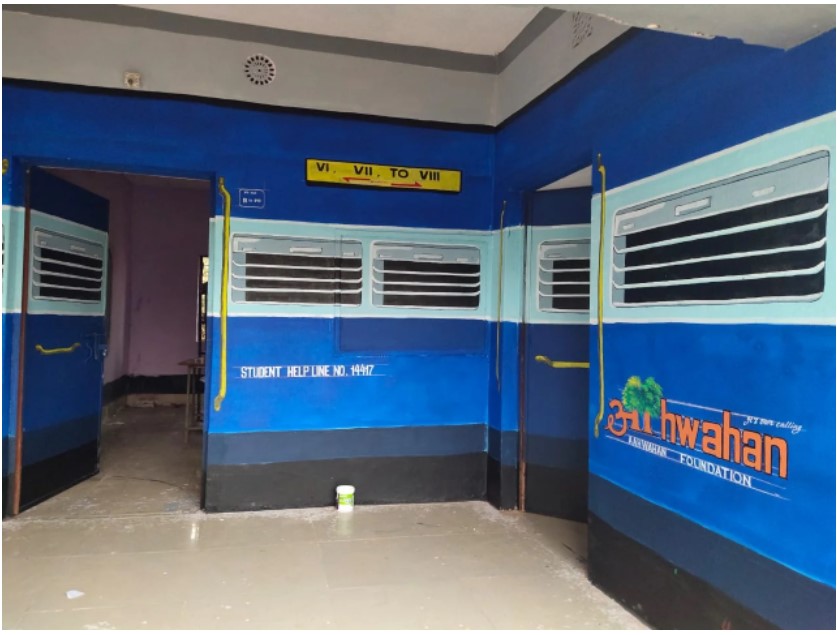 'Baidhara Government UP School' in Baiganbaria is one such school which has modelled like a train.
Aahwahan Foundation in Odisha adopted the school in 2020 after taking into consideration the fact that there has been no rail connectivity to the area so far due to various reasons.
Hoping that the idea of entering a train would attract more children to the school, Aahwahan Foundation started work on converting the building into a train. The school building has been painted with the colours of train including different shades of blue and yellow.
Founded in 1964, this school lacked infrastructure like classrooms and toilets. Moreover, the road leading to the facility was in a precarious condition and turned worse during monsoon due to which parents preferred sending their children to schools farther away, resulting in
dropouts.
During the lockdown, the foundation adopted local government school of Odisha and began its construction to maintain a reliable and sanitary learning environment for students.
Besides modelling the school like a train, the team members also decided to go door-to-door to raise awareness on education which helped in increasing the admissions.
Commenting on the initiative, Founder, Aahwahan Foundation, Braja Kishore Pradhan said "The foundation has adopted over 200  government schools and has been assisting them with basic infrastructure, such as school buildings, drinking water filter, sanitation facility and providing benches and desks, among other things."
Founded in 2009 by Philanthropist and Social Worker Pradhan and a
team of like-minded individuals with a commitment to eradicate poverty, Aahwahan – is a Bengaluru-based NGO working in Delhi, Mumbai, Noida, Bhubaneswar, Chennai, and Pune.
This Foundation aims to bring equality in the society through its various measures focused on eradicating poverty, unemployment, women inequality and promoting girl-child education.
This Content is Published in Media https://odishabytes.com/students-ride-education-express-in-this-school-designed-like-train-in-odishas-mayurbhanj/